Waterfalls are a source of endless fascination, from vertiginous cascades like Angel Falls in Venezuela to broad beauties like Victoria Falls in Zimbabwe and Zambia. Then there are the spectacular settings, with incredible waterfalls deep in rainforests and thick jungle or set against backdrops of dramatic cliffs and mountains. Here are some of the world's most spectacular, from tall trickles to sculptural masterpieces.
Iguazú Falls, Brazil and Argentina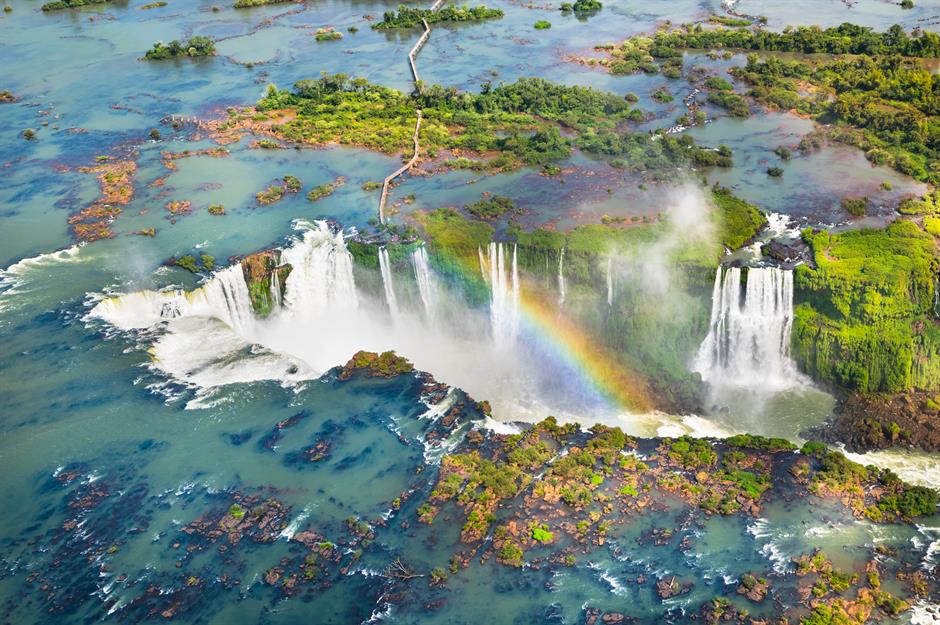 When one waterfall just isn't enough, there's Iguazú Falls – the world's largest waterfall system and certainly among the most awe-inspiring sights. The chain of cascades, which encompasses more than 270 waterfalls and covers 1.7 miles (2.7km), straddles the border of Brazil and Argentina, and flows in a staircase formation. Its setting, in the heart of a national park thick with rainforest, is equally beguiling.
Seljalandsfoss, Iceland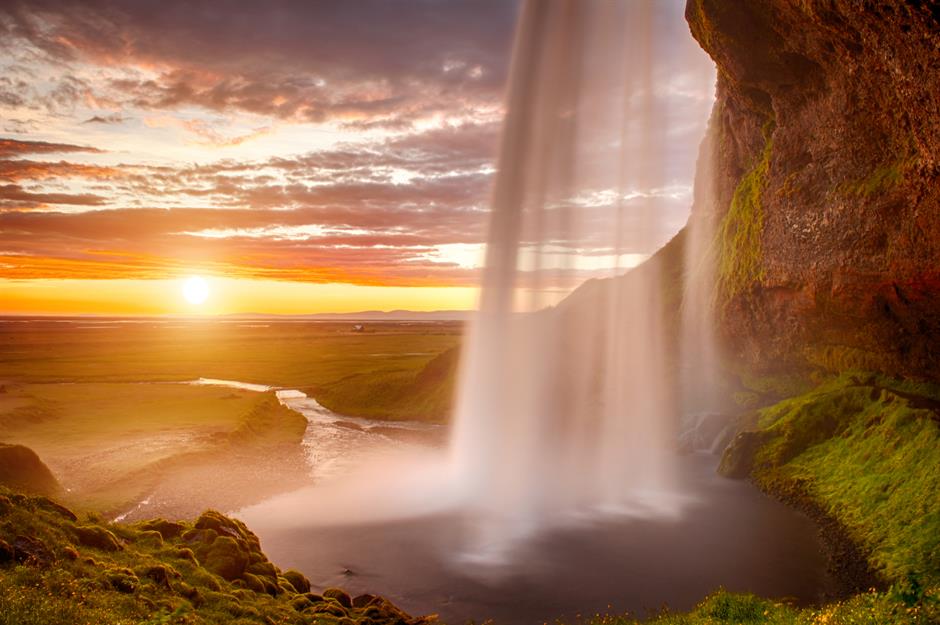 Iceland seems to overflow with waterfalls, each with its own fascinating features. Seljalandsfoss, in the south, isn't the tallest (with a drop of 200 feet/61m) but it's one of the few waterfalls in the world that you can walk all the way around. Which just means more angles from which to admire its beauty against a landscape of seemingly endless green meadows, dotted with yellow and violet flowers watered by the fine spray.
Pliva Waterfall, Bosnia and Herzegovina
In the heart of Jajce, a charming 14th-century city surrounded by medieval walls, Pliva Waterfall splashes down a drop of just 55 feet (17m). But its breadth and picture-perfect surroundings – with red rooftops peeping from hillsides thick with trees – mean it punches (and splashes) well above its height when it comes to beauty.
Multnomah Falls, Oregon, USA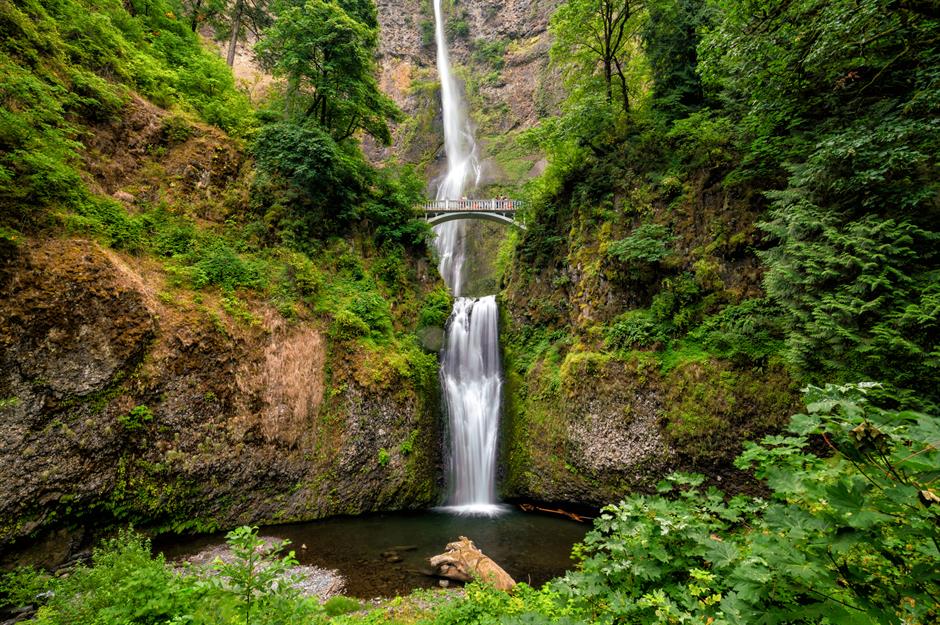 Oregon's tallest waterfall is a neck-craning 611 feet (186m) tall, framed by sheer basalt cliffs and slopes thick with maple trees, whose leaves turn gold in autumn. It crashes down in two tiers, fed by rainfall, snowmelt and underground springs. A man-made attraction, Benson Bridge, adds to the natural spectacle. Built in 1914, its concrete arches span the creek.
Angel Falls, Venezuela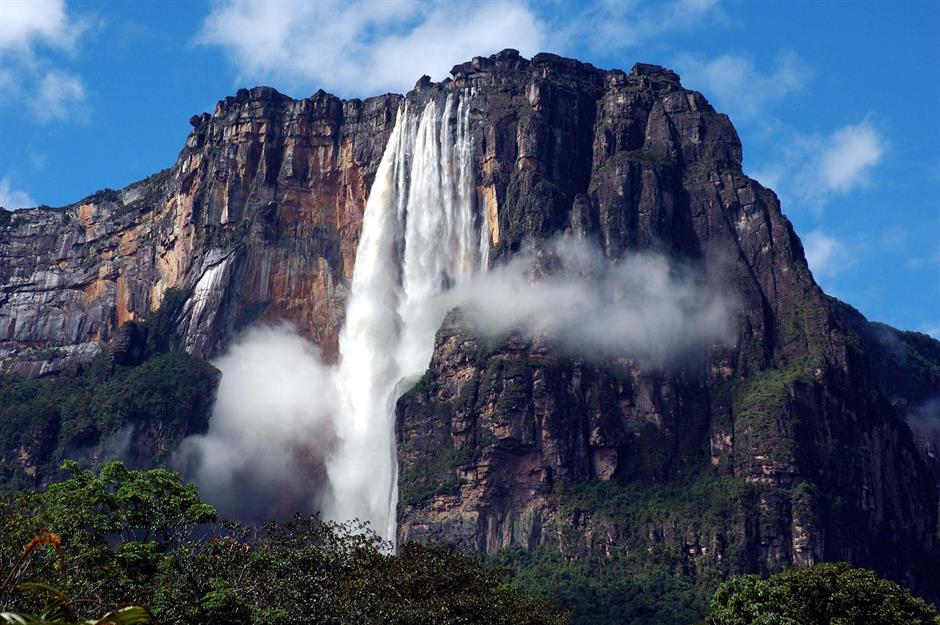 Technically, the largest known falls is the Denmark Strait cataract, which lies beneath the Atlantic Ocean. But, on land, Angel Falls takes the literal top spot as the world's tallest waterfall, crashing 3,212 feet (979m) over the edge of the Auyán-tepui mountain and into the Churun River. Its location in Canaima National Park is equally dramatic, with flat-topped mountains and mist-shrouded forest.
Victoria Falls, Zimbabwe and Zambia
A mighty sight on the mighty Zambezi River, Victoria Falls is more than 5,500 feet (1,700m) wide and has a sheer drop of 355 feet (108m). In other words, it's an incredible sight – and has a roar to match. The thundering sound as the water crashes down the near-vertical drop is loud and creates such a veil of mist that the Kalolo-Lozi people named the falls Mosi-oa-Tunya, or 'The Smoke That Thunders'.
Yumbilla Falls, Peru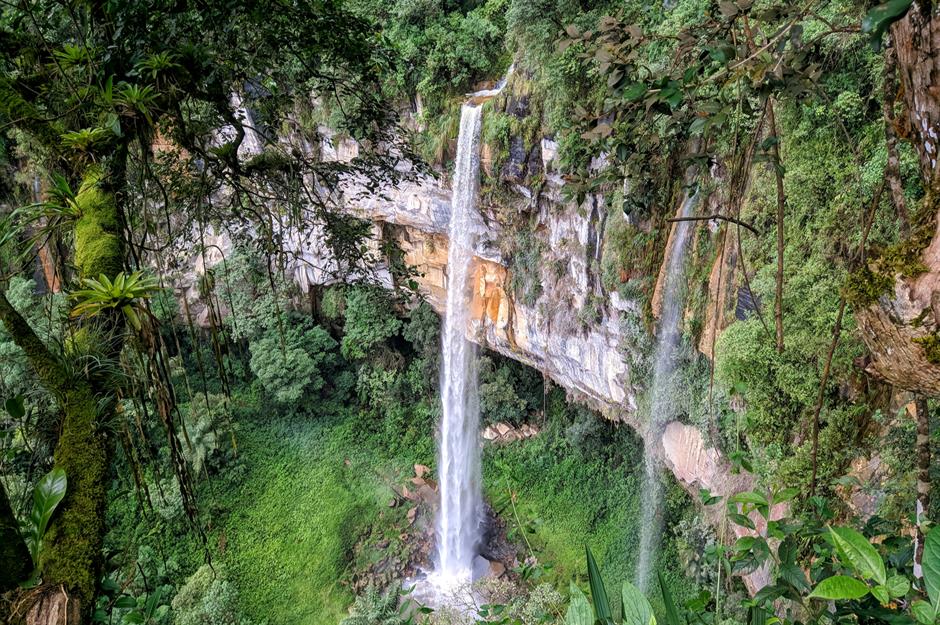 One of the world's largest waterfalls is tucked deep in the Bosque de Cataratas Gigantes de Cuispes – which, appropriately, translates as Forest of Gigantic Waterfalls of Cuispes – near the town of Chachapoyas. At nearly 3,000 feet (914m) high, it's an extraordinary sight with its silvery cascade surrounded by verdant, tangled jungle.
Nohkalikai Falls, India
India's tallest plunge waterfall has a dramatic drop of around 1,100 feet (335m) but it would be beautiful at a tenth of the height. It rushes over red-rock cliffs thickly blanketed with forest, which surrounds the falls with swathes of emerald green trees draped in mist. Heavy rainfall here in Meghalaya, in eastern India, keeps the landscape verdant, while locals have created bridges from living trees to help them get around in times of monsoon.
Havasu Falls, Arizona, USA
The colours of Havasu Falls look otherworldly but this eye-popping combination of orange-pink rock and a pool of cerulean blue, fed by a silken cascade, is definitely real. One of five waterfalls on the Havasupai Indian Reservation, within the Grand Canyon, the water owes its vibrant hue to calcium carbonate in the water.
Múlafossur, Faroe Islands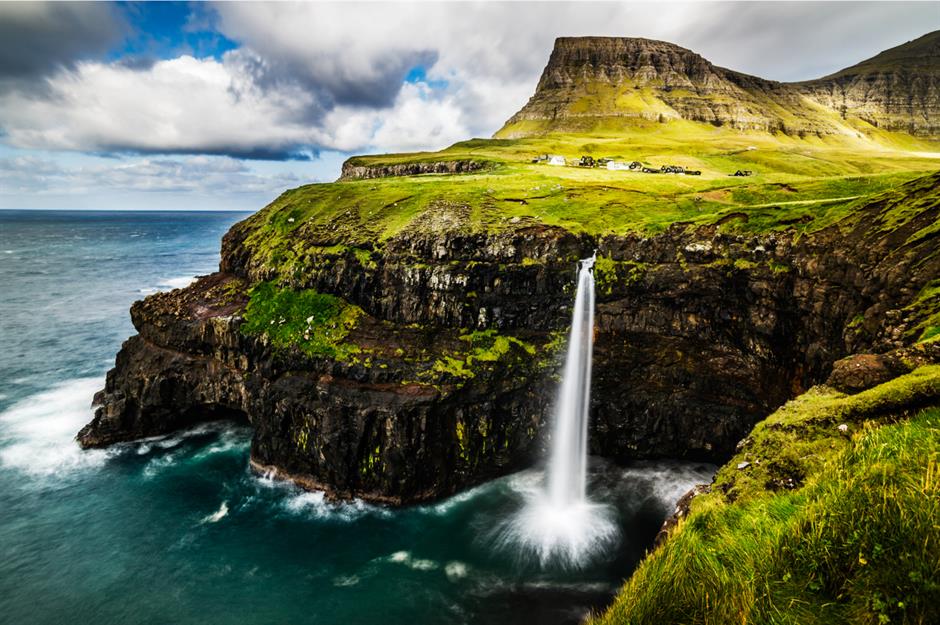 Every inch of the Faroe Islands archipelago feels otherworldly, from the green-carpeted mountains to Nordic villages and fjords shrouded in cool mist. One of the most dramatic sights is on Vágar, one of the largest islands. Here, Múlafossur waterfall drapes from a verdant, clifftop perch, emptying into the sea like white velvet.
Bigar Waterfall, Romania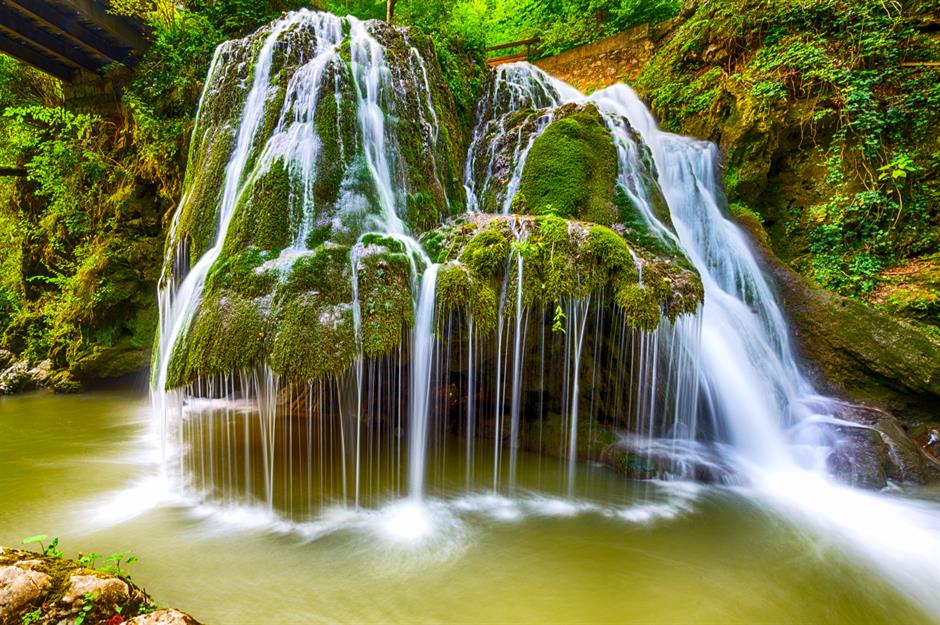 We could compare Bigar Waterfall to a mossy mushroom, if only in shape. The strange yet beautiful attraction, in Romania's protected Cheile Nerei-Beușnița National Park, cascades over a fat, rounded stone carpeted in emerald moss. The water trickles around its edges to create a gorgeous, misty veil reminiscent of an umbrella in a rainstorm.
Plitvice Lakes National Park waterfalls, Croatia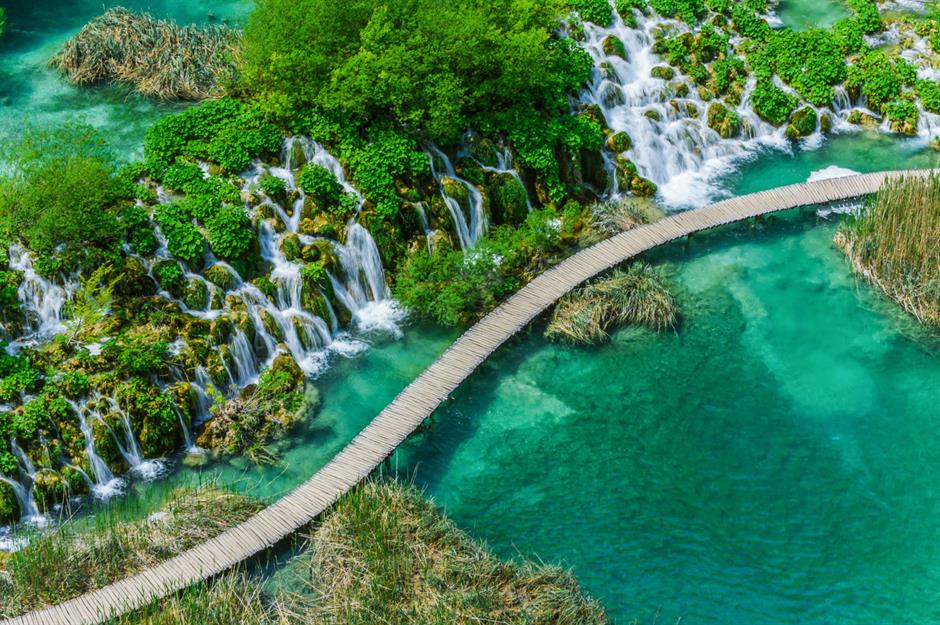 This national park, located between Zagreb and Zadar, is all about blue and green, with a chain of 16 lakes scattered across a lush, wooded landscape and interconnected by a series of wondrous waterfalls. They trickle between forest and in rivulets carved in limestone, pouring into turquoise pools. They're not the tallest – the longest drop is 255 feet (77m) – but the sheer number of them, and the beauty of their surroundings, makes for a jaw-dropping sight.
Burney Falls, California, USA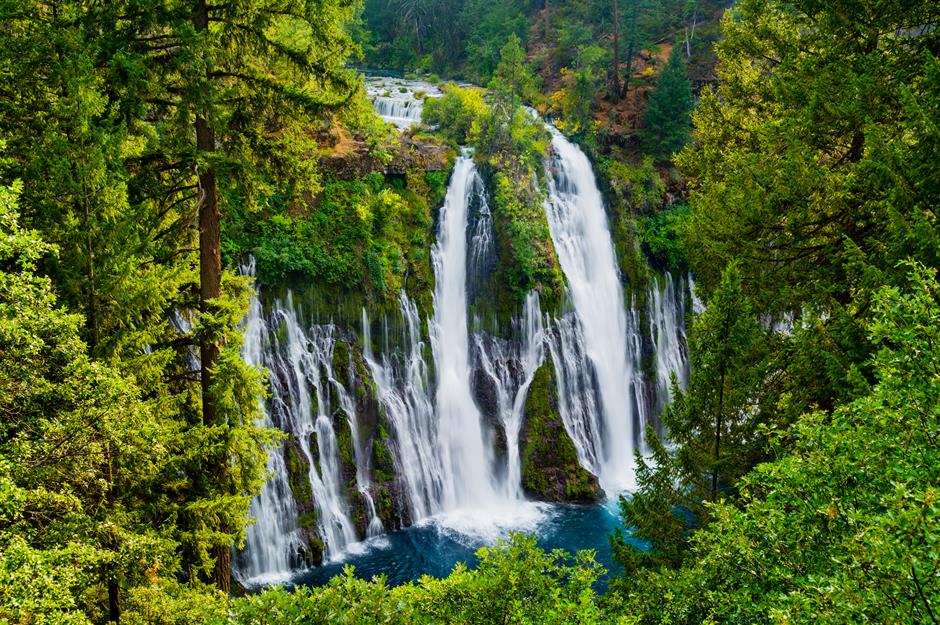 President Theodore Roosevelt called them the eighth wonder of the world and while there's a lot of competition there, these falls in McArthur-Burney Falls Memorial State Park, northern California, are certainly wondrous. The multiple cascades are fed by underground springs, flowing 129 feet (39m) into a sapphire pool that pops against the green of the surrounding forest.
Skradinski Buk falls, Croatia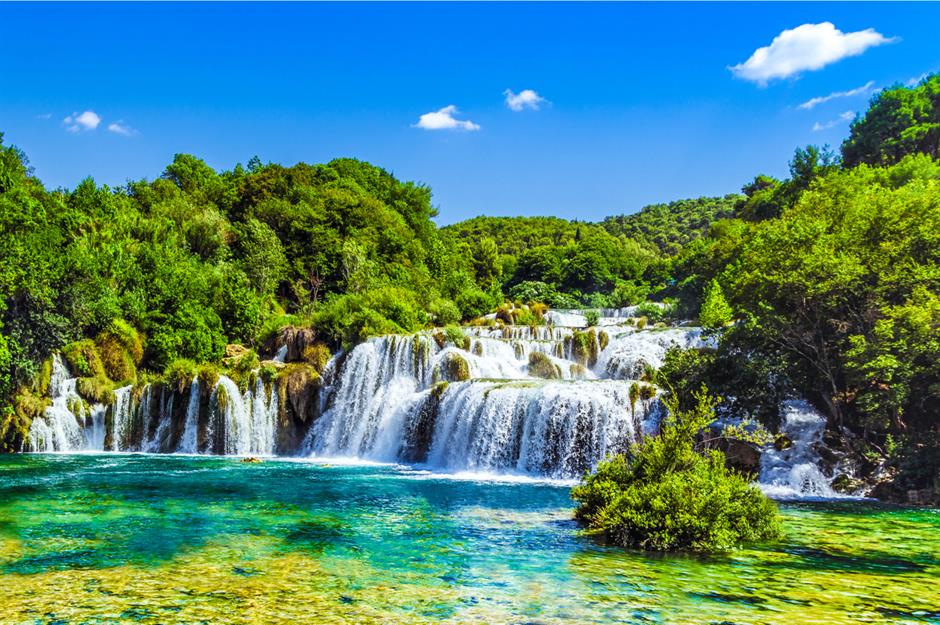 One of the most famous sights in the pristine Krka National Park, in southern Croatia, these seven small waterfalls tumble over one another in their rush to get to the gin-clear, turquoise-tinged pool at the bottom. And who can blame them? The scene could hardly be more inviting, especially tucked amid thick, vibrantly verdant vegetation.
Tat Ton Waterfall, Thailand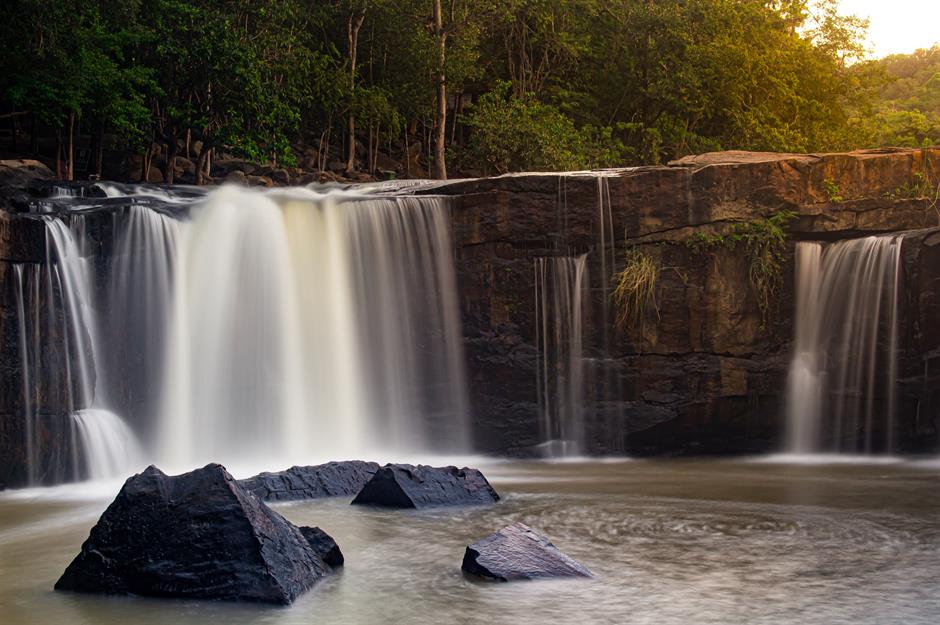 In the heart of Tat Ton National Park in central Thailand, this waterfall is one of many in the area. But its beauty is stand-out: silken curtains of water tip over the edge of perfectly flat plateaus and cascade down sculptural, elephant-grey rock formations. Chaiyaphum province, where the fall is located, is also home to Mor Hin Khao, sometimes called Thailand's Stonehenge.
Gullfoss, Iceland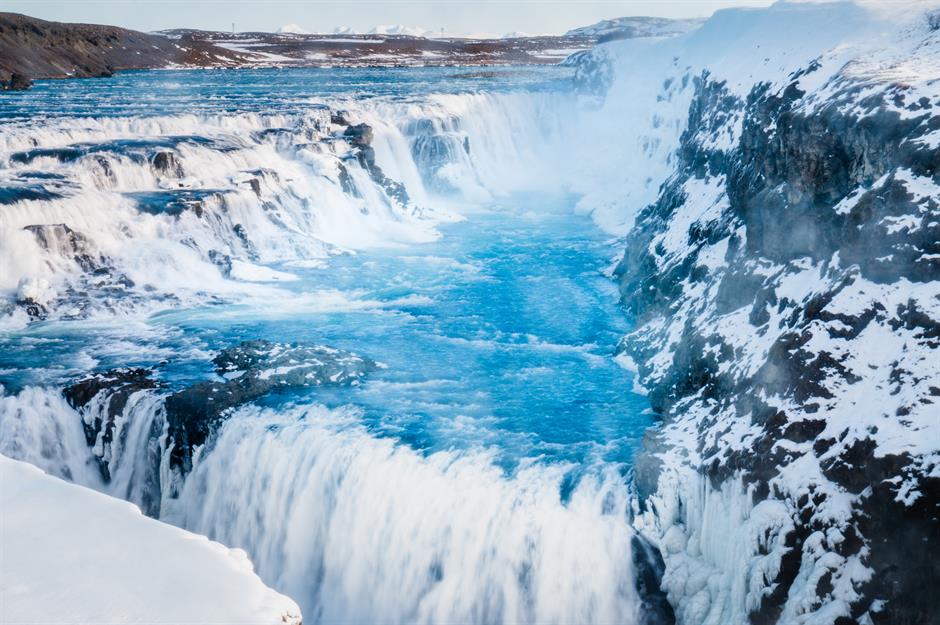 Perhaps Iceland's most famous waterfall, Gullfoss is the magical result of the Hvítá river travelling from the glacier Langjökull. The cascade drops just 105 feet (32m) but height isn't everything. It's the breadth of the falls, which tumble over a series of ridges, and the vast, barren beauty of the landscape that make Gullfoss so heart-stoppingly lovely – particularly when it's dusted with snow in winter.
Rhine Falls, Switzerland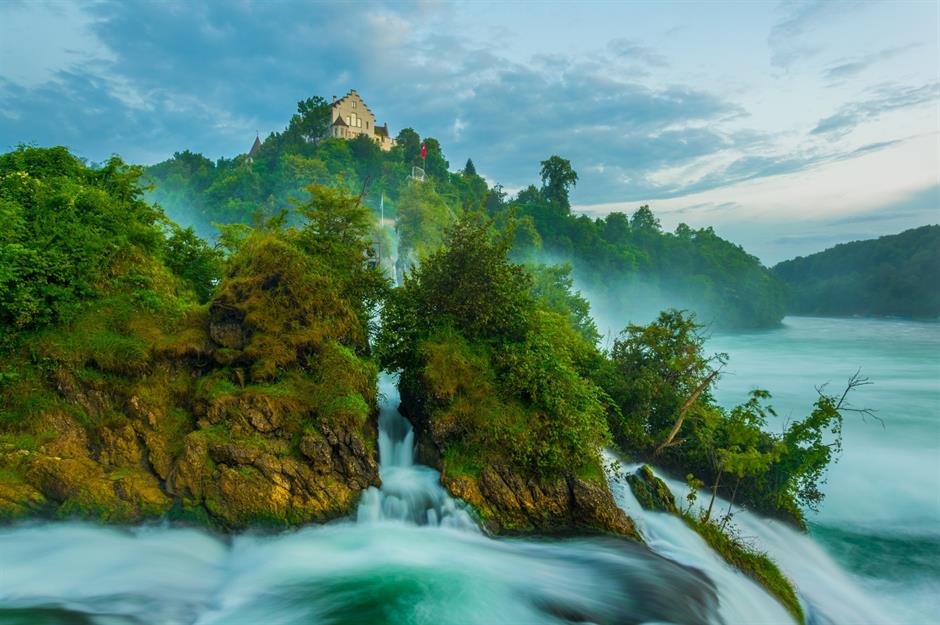 Europe's most powerful (and third largest) waterfall looks like it's emerged, roaring, straight from the pages of a fairy tale. There's even a castle perched above its impressive cascades. Located on the High Rhine, the fast-flowing water is so loud that vibrations can be felt nearby.
Blue Nile Falls, Ethiopia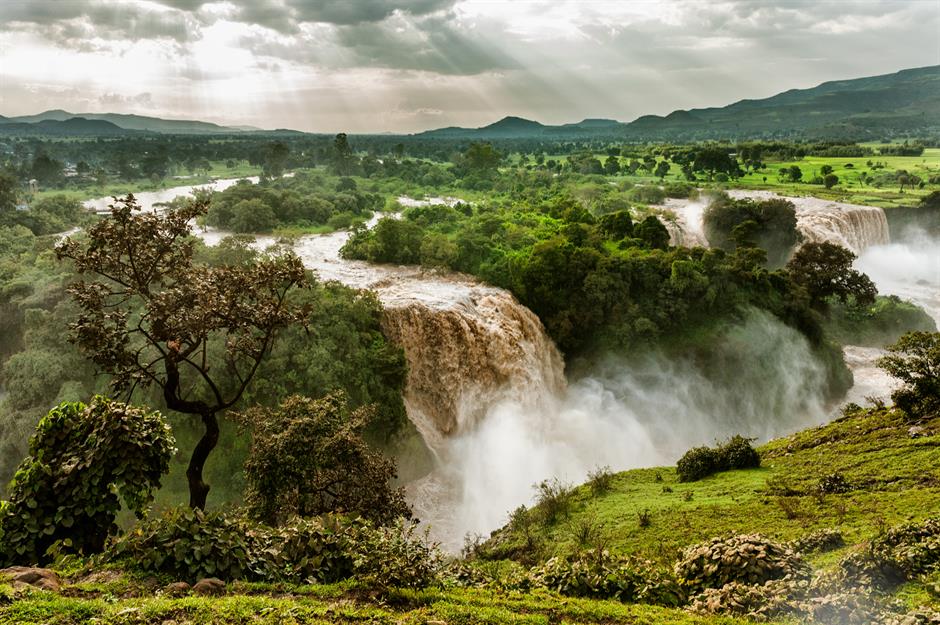 The mist produced by the Blue Nile Falls in northwestern Ethiopia is so dense, the waterfall's local name is Tis Abay – Amharic for 'great smoke'. Straddling the White and Blue Nile rivers, its biggest drop is around 140 feet (43m) and its widest point is 1,312 feet (400m), creating a dramatic sight amid lush rainforest.
Yosemite Falls, California, USA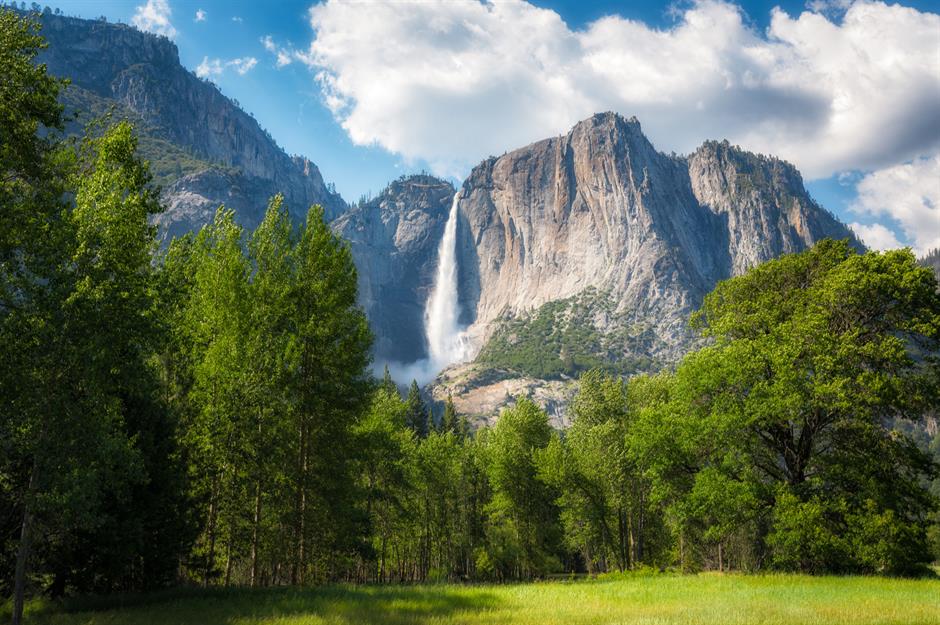 There's beauty at every turn and in every direction in California's vast Yosemite National Park. But, even in the face of such stiff competition, Yosemite Falls is undisputedly one of the most magnificent sights. It's divided into three sections, the tallest of which is Upper Yosemite Fall – one of the world's highest waterfalls with a head-spinning drop of 1,430 feet (436m). Together, the falls tumble magnificently for 2,425 feet (739m), cascading down granite cliffs studded with pines.
Fairy Pools, Scotland
What this series of waterfalls lacks in height, it makes up for in sheer, ethereal beauty. Located on the Isle of Skye at the foot of the Black Cuillin mountains, the Fairy Pools are so-named because the crystalline, blue-and-green-dappled water is so crisply beautiful it seems to defy nature. And they have a magical, hypnotic effect on those who gaze upon them.
Jog Falls, India
The second highest plunge waterfall in Karnataka, India, flows in a series of segmented, seemingly independent cascades, though all come from the Sharavathi River. Rainbows often form in the fine mist below and the surroundings – dense evergreen forest – are pretty lovely too.
Ban Gioc-Detian Falls, Vietnam and China
This waterfall straddles the border between China, where it's called Detian Falls, and Vietnam, where it's called Ban Gioc. Fed by the Quay Son River, it tumbles down several staggered levels, all surrounded by jungle-clad limestone rock and karst mountains, whose jagged, pointy shapes are formed by rainfall.
Pistyll Rhaeadr, Wales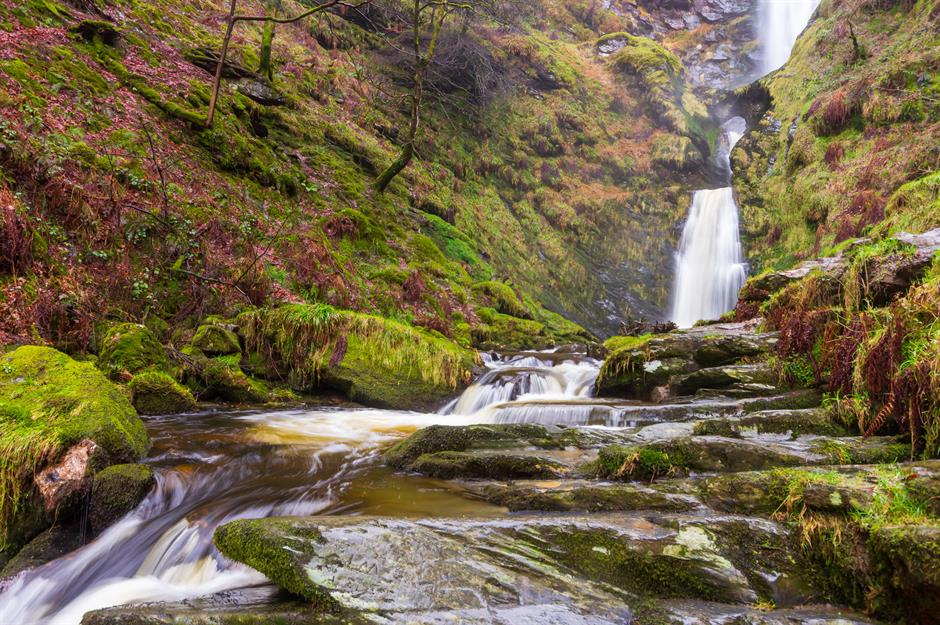 Pistyll Rhaeadr in Wales staggers over a 240-foot (73m) cliff face in three stages, pooling in the Afon Rhaedr river below. It's set within the Berwyn Mountains, surrounding by rolling green hills and enchanting woodland.
Yellowstone Falls, Wyoming, USA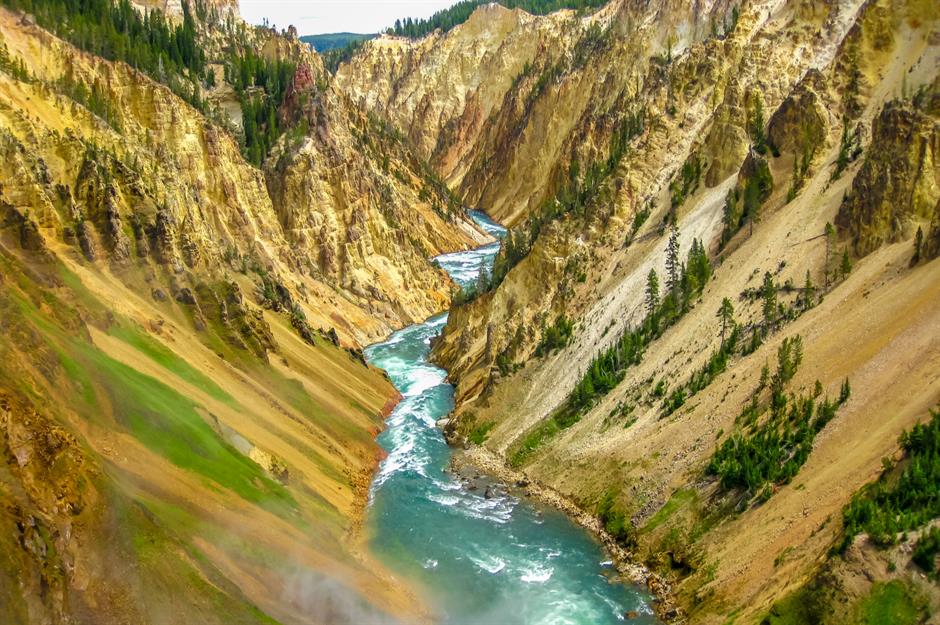 Yellowstone National Park doesn't scrimp on natural beauty, from the dazzlingly colourful Grand Prismatic Spring to wildlife including grey wolves and grizzly bears. Then there's Yellowstone Falls, which is actually made up of three joined-up falls that flow in the Grand Canyon of Yellowstone, slicing through a dramatically beautiful landscape of grey and apricot–hued cliffs studded with pines.
Kaieteur Falls, Guyana
The world's largest single-drop waterfall (by volume) looks like something from a picture book. Framed by leafy Guyanese rainforest, rainbows often form in the mist rising from the thundering water below. Located in the Kaieteur National Park in west Guyana, it's also one of the world's most powerful (and noisy) waterfalls.
Baatara Gorge Waterfall, Lebanon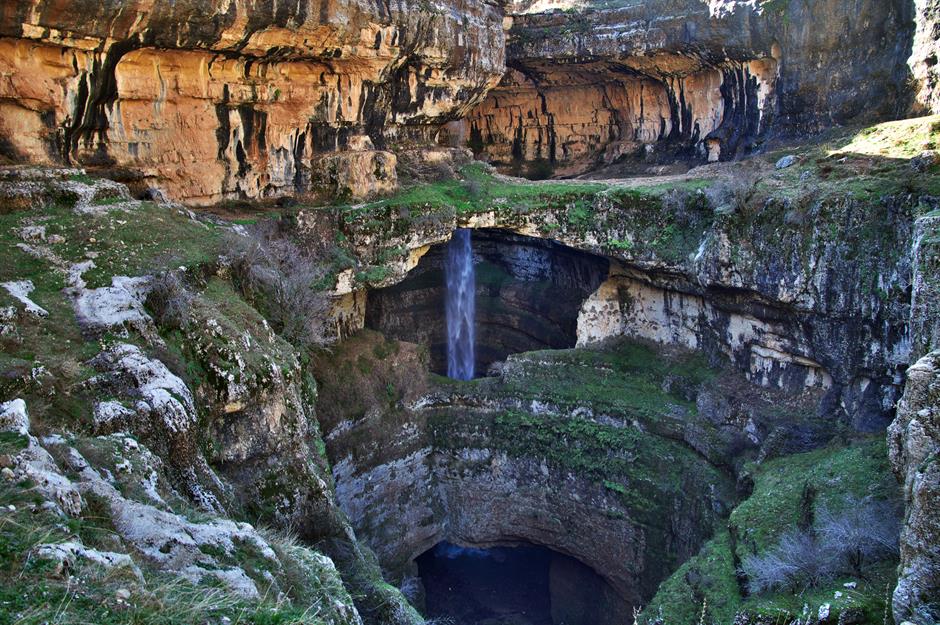 Located in the village of Balaa, in north Lebanon, Baatara Gorge is one of the most unusual waterfalls. It's certainly one of the most fascinating to gaze upon, with its cascade encased in a limestone cave divided by three natural bridges. Trickling from a height of 837 feet (255m), it only flows in March and April, fed by snowmelt.
Sutherland Falls, New Zealand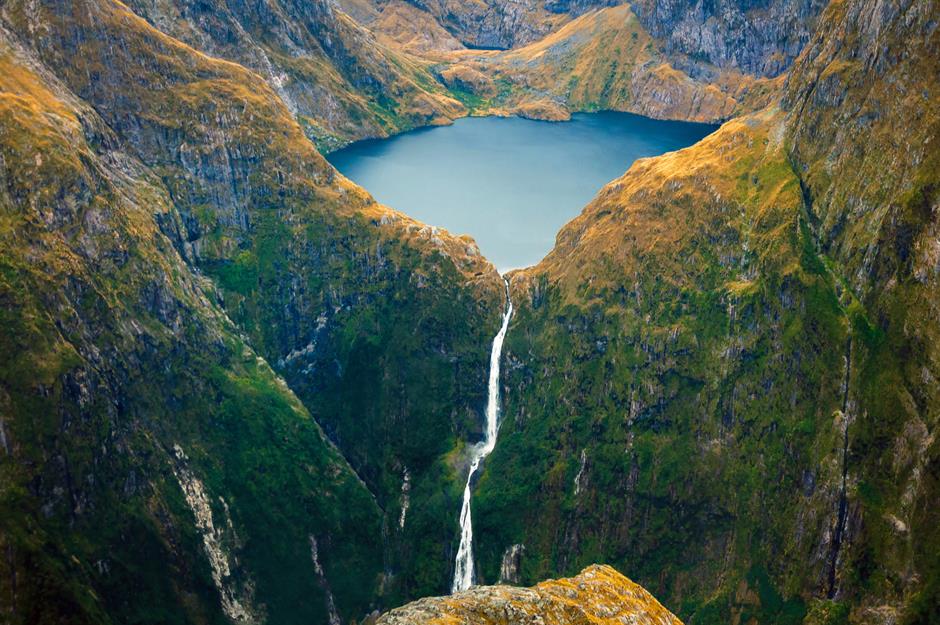 Located in the remote part of Fjordland in the South Island, Sutherland Falls is made up of three streams that thunder from a height of 1,904 feet (580m) – putting it among the world's tallest. There's often not a soul around to hear their roar as the falls are tucked within remote bushland, with water flowing from Lake Quill.
'Akaka Falls, Hawaii, USA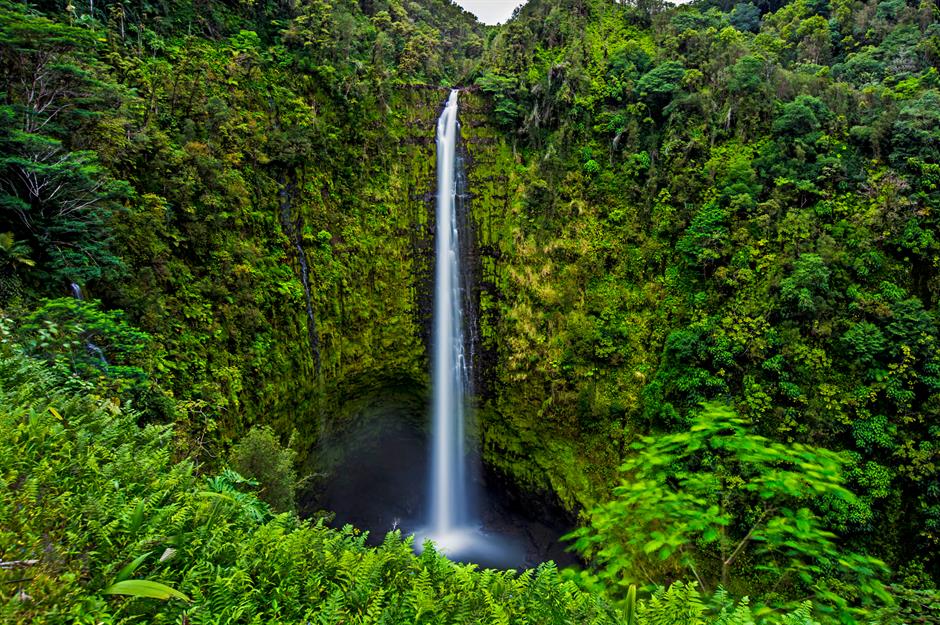 Cascading slinkily and silkily from a height of 442 feet (135m), 'Akaka Falls – on the island of Hawaii's northeastern coast – looks pretty much how we might picture paradise. It empties into a gorge surrounded by a tangle of rainforest, bamboo and tendrils of draping ferns.
Terme di Saturnia, Italy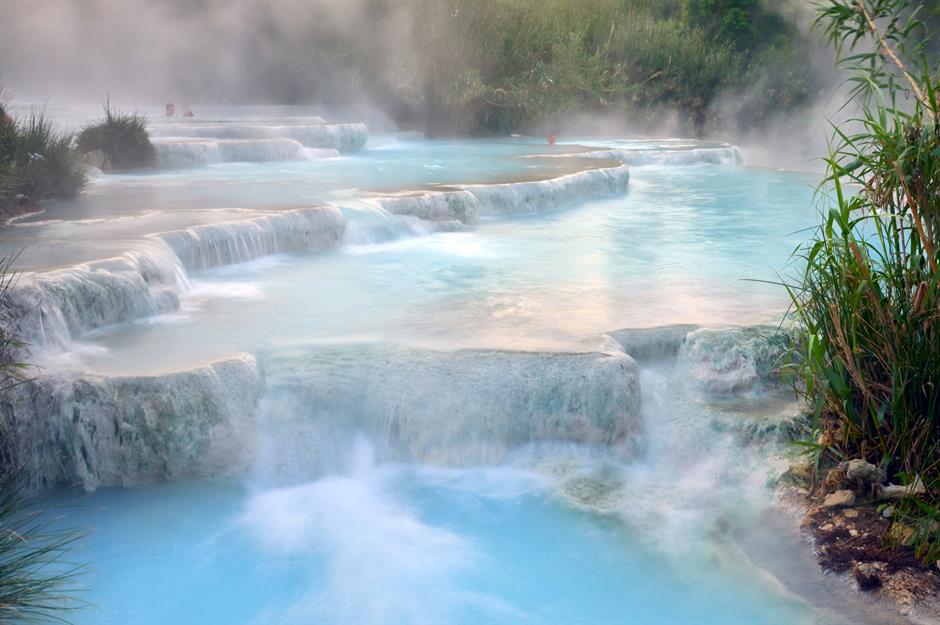 It's hard to believe these hot springs pools, linked by a series of shallow cascades, aren't man-made. Staggered like a giant's staircase near the pretty village of Saturnia, in southern Tuscany, they look like they've been crafted for a luxurious spa resort. Fed by thermal springs that heat the water to a balmy 37.5°C (99.5°F), the pools of Terme di Saturnia are believed to have therapeutic properties – but their beauty is entirely natural.
This article was originally published on :https://www.loveexploring.com