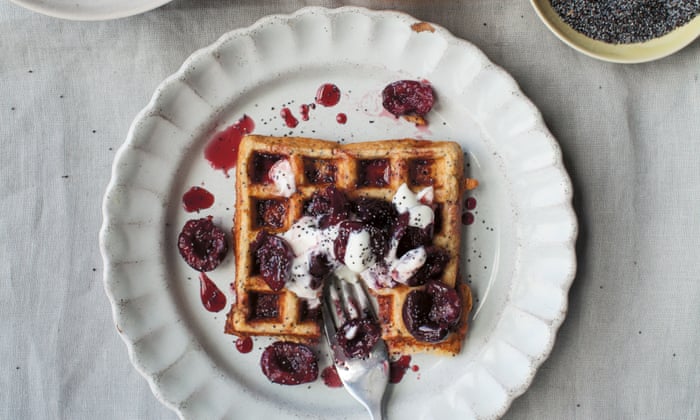 Cherry poppy seed waffles
Like bottomless coffee and inch-deep maple syrup and waitresses with name badges, waffles are very American territory to me. I started making them at home last year – I bought a £20 waffle iron and I haven't looked back, as there is something so good about their crispy chequered exterior. They are quick and easy to make and more consistent than pancakes, and the waffle iron stays squeaky clean, so no washing up. This is my poppy-seed-flecked version. I make these waffles with a mixture of oats or quinoa, whizzed to a floury dust in the food processor, but straight up wholemeal flour works well too.
Cherries are hands down my favourite fruit. When British cherries start filling my basket they are all I eat for breakfast until they are gone again. I keep pitted cherries in the freezer to use all year round, and you can buy good frozen ones from most supermarkets too. These are equally good with raspberries mashed with a little rosewater in place of the cherries.Advertisement
Instead of using eggs here you can make these pancakes using the incredibly clever natural binding qualities of chia seeds. What I like best about chia seeds is how they work in baking and sweet things. You can use them in place of eggs in almost all baking, just mix 1 tablespoon of chia seeds with 3 tablespoons of water for each egg and leave to soak for a few minutes until you have a gloopy mix. I like the crunch of the chia seeds but, if you want to, you could grind them to a powder in your food processor before mixing with the water. Just don't try scrambling them!
Makes 8 waffles
For the cherries
pitted cherries 500g, fresh or frozen
honey 2 tbsp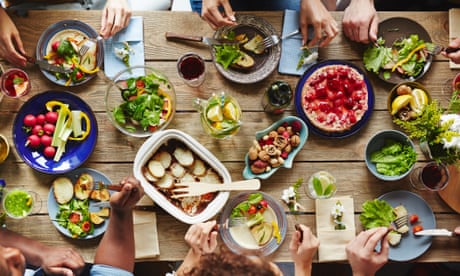 For the batter
oats 200g
light brown sugar or coconut sugar 4 tbsp
baking powder 1 tbsp
sea salt a pinch
poppy seeds 2 tbsp, plus extra to serve
natural yogurt or coconut milk yogurt 200ml, plus extra to serve
milk of your choice 150ml
organic or free-range eggs 3 (or chia seeds, see intro)
unwaxed lemon grated zest of 1
butter or coconut oil for cooking
honey to serveAdvertisement
Put the cherries and honey into a saucepan and bring to a gentle simmer, then cook for 10 minutes, until just softened, slightly sticky and deep crimson.
Put your waffle iron on a very low heat to warm up. I cook using a gas hob, which heats the waffle iron quite quickly, but you may need to wait a little longer if you have an electric or induction hob. You could use an electric waffle maker set to medium too.
Whiz the oats in a food processor until you have a fine powder, then put into a bowl with the sugar, baking powder, salt and poppy seeds. In a jug, whisk the yogurt, milk, eggs and lemon zest. Pour the wet ingredients into the dry and beat until you have a smooth, thick batter, then pour into a jug to make it easier to fill your waffle iron.
Turn the heat up a little on your waffle iron. Drop a knob of butter or coconut oil on to the base of it and use a brush to persuade it around the iron squares. Flip the iron and do the same for the other side.
Spoon one ladleful of mixture into one side of your hot iron and close the lid. Leave for 2 minutes to crisp up, then flip for another 3 minutes. The waffles are ready once they're an even golden brown and come away from the sides easily.
Serve with the warm cherries, a sprinkle of poppy seeds and a spoonful of yogurt and a drizzle of honey.
Shaun Hill's eggs benedict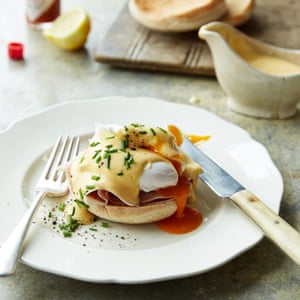 Eggs benedict is a tower of muffin, ham, poached egg and hollandaise. There are plenty of variations: spinach instead of ham is called eggs florentine and a slice of decent smoked salmon substituting for the ham will carry the pompous title of egg a la royale, a nod to the times when good smoked salmon cost lots more than good ham. The hollandaise sauce is the slightly more tricky aspect, the rest is easy.
For poached eggs you would ideally have two pots of boiling water, one acidulated with a little vinegar, the second without vinegar but with salt. Crack the eggs into individual saucers or ramekins. When the acidulated water comes to the boil, turn down the heat and slip each egg into the water. Allow the eggs to poach for two to three minutes without letting the water return to a fast boil. Lift the eggs with a slotted spoon into the salted water for a few moments then lift onto a serving plate. If you don't want to use two saucepans then cook the eggs in salted acidulated water and pat dry after cooking. That's if you like the taste of vinegar on poached egg, of course, which personally I don't.
Traditionally, hollandaise sauce is made by whisking egg yolks and a little water over a pan of hot water, then incorporating clarified butter and a reduction of shallots, peppercorns and vinegar as flavouring. My preference is for a light airy sauce so I alter the proportions slightly, using much more white wine with the yolks and no reduction. If you have a saucepan of simmering water, the whole process will take only minutes.
Hollandaise should be made fresh and kept only for about half an hour. Two reasons: the sauce will cool and turn into something less creamy and unctuous, or if kept warm it will lose liquid through evaporation which unbalances the emulsion between butter and other liquids, causing the sauce to split.
Serves 6
muffins 3, split then lightly toasted
eggs 6
ham 6 small slices, thinly cut
For the hollandaise
unsalted butter 250g
egg yolks 3
white wine 70ml
lemon juice 1 tbsp
salt to taste
Tabasco sauce 4 dashes
To make the hollandaise, melt the butter in a pan then allow it to heat slowly until it separates into clarified butter oil over a milky residue. This residue is useless and can be discarded.
Put the yolks and wine into a round bottomed stainless steel or ovenproof bowl and bring a saucepan of water to the boil.Advertisement
Set the bowl on top of the simmering water and whisk until it thickens and cooks. The time taken will depend on the water's heat. Try to whisk upwards rather than across the base so that you add air and volume.
Lift the bowl from the heat and slowly whisk in the clarified butter. Then whisk in the lemon juice, salt and Tabasco.
Transfer the sauce to a heated jug – I fill the jug with the hot water just used then pour it away leaving a nicely warmed jug.
Assemble your eggs benedict – muffin, then ham, then poached egg, then hollandaise.
Bacon and egg fettuccine, roast garlic and Berkswell cheese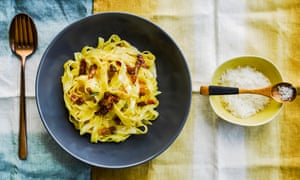 It is so often the case that a brunch dish leans more toward the "br". However, this is definitely "unch" using some staple "br" ingredients. I find this to be the perfect hangover cure.
Serves 4
pancetta 250g, diced 
garlic 3 large cloves in their skins
egg yolks 6 
double cream 100ml 
thyme 3 sprigs, leaves picked
good quality dried fettuccine 500g (or any long pasta – flat is best) 
Berkswell cheese 100g, grated, or any hard salty cheese such as parmesan or pecorino
butter a knob 
salt and freshly ground black pepper
Preheat the oven to 180C/gas mark 4, and put a large pan of salted water on to boil. Place the pancetta and garlic on a baking tray and place in the oven until the pancetta is cooked through and crispy, and the garlic is soft when pierced with a knife (about 12 minutes).
Mix together the egg yolks, double cream and thyme. When cool enough to handle, squeeze out the garlic from their skins and add to the egg yolk and cream mixture.
Cook the pasta following its packet instructions. In a large warm mixing bowl add the yolk and cream mix and drained pasta. Stir quickly and add three quarters of the cheese, the knob of butter and the pancetta. Divide between four warm bowls. Sprinkle over the rest of the cheese and some freshly ground black pepper.
Tonjiru – pork belly and root vegetable miso soup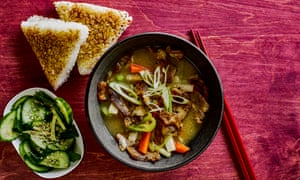 Tonjiru is a well-loved comfort food from Japan. It's a hearty miso soup full of root vegetables and pork belly, that can be eaten at any time of day but is particularly good at brunch with grilled rice balls and pickle.
Serves 2
daikon 70g
carrot 1
salsify 1, or jerusalem artichoke or small turnip
parsnip 1
leek 1
pork belly 100g, off the bone and skinned
vegetable oil optional
dashi 500ml (you can make dashi by soaking 5g dried kombu in 500ml water), or water
miso paste 50g (whichever miso you like, red or white)
spring onions 2
ichimi seasoning to serve (available from Japanese supermarkets)
For the rice balls
Japanese short grain rice 300g
vegetable oil for greasing
soy sauce 150ml
mirin 50ml
For the cucumber pickle
cucumber 400g
fresh ginger 10g
salt 4g
sesame seeds 1 tbsp, toasted
shiso a couple of leaves (if you can get a hold of them)
For the grilled rice balls, cook the rice according to the instructions on the packet or follow these tips, using the ratio of 1:1 for rice and water.
First, wash the rice in a bowl. The initial wash should be in plenty of water. Quickly stir from the bottom of the bowl, then throw away the water.
Then, stir the rice in more water – approximately 20 times – in the same direction. It is important to be quick, then squeeze, but don't crush, the rice. Drain. Repeat this 3 times and drain the water completely.
In a saucepan, soak the rice in an equal volume of water for 45 minutes. (During this time, start the pickle and tonjiru.)
Give the rice a little pat so it's flat in the water, put a lid on, and place on full heat. When it starts boiling and the lid starts to move, turn down the heat to minimum and keep cooking for 10-15 minutes. Keep the lid on at all times.
With the lid still on, turn off the heat and let it rest/steam for another 10-15 minutes. There should never be excess water at the end.
Take off the lid and give the rice a couple of stirs with a wet wooden spatula – if you dampen the spatula, the rice won't stick as much to it and it's easier to wash later.
Make 2-3 onigiri, or rice balls, per person. They should each be about 130g each. You can make a triangle or round shape, but make sure it is a shape that can sit steady by itself. There is no need to season at this point.
Set your oven to the lowest heat on "grill" mode and place a metal grid on an oven tray. Dampen a piece of kitchen roll with vegetable oil, and use it to pat the metal grid.
Place the onigiri on the grid and grill for 8 minutes on each side. Mix the soy sauce and mirin, then use the mixture to brush on the surface of the onigiri, and grill for another 8 minutes on each side or until browned.
To make the cucumber pickle, slice the cucumber thinly, about 1-2mm thickness. Slice the ginger thinly, about 1mm, and then into long thin strips.
Put the cucumber and ginger into a bowl, sprinkle with salt and massage for a couple of minutes. Place a heavy plate on top and leave for 30 minutes.
Squeeze the water out of the cucumber mixture and mix in the sesame seeds and hand-torn shiso.
Meanwhile, for the soup, cut all the root vegetables into bite-size pieces. Cut the pork belly lengthways into 3cm-wide pieces, then slice each length into strips – as thinly as possible.
Start by frying the sliced pork belly in a pot on medium heat, adding a tablespoon of vegetable oil if it sticks. When the pork is brown, add the daikon, carrot, salsify and parsnip. As the edges of the vegetables go transparent, add the dashi or water.
Bring to the boil once, skim the surface of any scum. Add the leek and half of the miso paste – push the paste through a strainer to break it up. Simmer for 8-10 minutes, then add the rest of miso and cook for a further 1-2 minutes.
Pour into small bowls and sprinkle with the sliced spring onion and season with ichimi to your liking.
Turkish eggs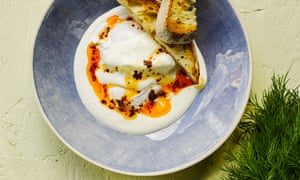 I first ate these in Istanbul in 1999. These are known as çılbır in Turkey (pronounced "chil-bir") where they always have raw garlic beaten into the yogurt. At The Providores, where they are our biggest-selling brunch and breakfast dish and also hugely popular on the all day menu, we don't add the garlic as our customers find it too confronting. When I put these on the menu in 2001, the garlic lasted all of two days! Just like Turkish cooks, I use a generous amount of the mild and seedless but truly tasty chilli flake called kirmizi biber, which is also known as Aleppo chilli. When I've been unable to find that pepper offshore, I've also made it using Korean chilli flakes, gochugaru, as they likewise give the buttery oil a delicious red hue, and a punch. We always serve this with toasted sourdough.
For 4 – allow 2 eggs each
thick plain yogurt 300g
garlic 1 clove , peeled and finely crushed (optional, see above)
flaky salt ½ tsp
extra virgin olive oil 50ml
unsalted butter 50g
kirmizi biber 1 tsp, more or less to taste
eggs 8
white vinegar 100ml (this may seem excessive, but it isn't!)
snipped flat parsley or fresh dill 1 tbsp
sourdough 8 slices
Whisk the yogurt, garlic (if using) and salt with half the olive oil for 15 seconds then put to one side (it's best served at room temperature). Warm 4 bowls that you'll serve in.
In a small pan, cook the butter over medium heat until pale nut brown (beurre noisette). Take from the heat and add the chilli flakes, swirling the pan gently to allow them to sizzle for 10 seconds. Add the remaining olive oil and put the mixture to one side, keeping it warm.
Add the vinegar to 1½ litres of simmering water in a medium-sized, deep pan and poach the eggs in this. Runny eggs will need 5-6 minutes' cooking (depending on size). Never add salt to the water when poaching eggs as it causes them to break up.
Toast your bread – we don't butter it as there is plenty of that in the dish.
To serve, divide ¾ of the yogurt between the 4 warmed bowls. Place 2 poached eggs, drained of water, in each bowl then divide the remaining yogurt on top. Drizzle the chilli butter on, sprinkle with the parsley (or dill) and eat before the eggs get cold.
This Article was originally published on:https://www.theguardian.com