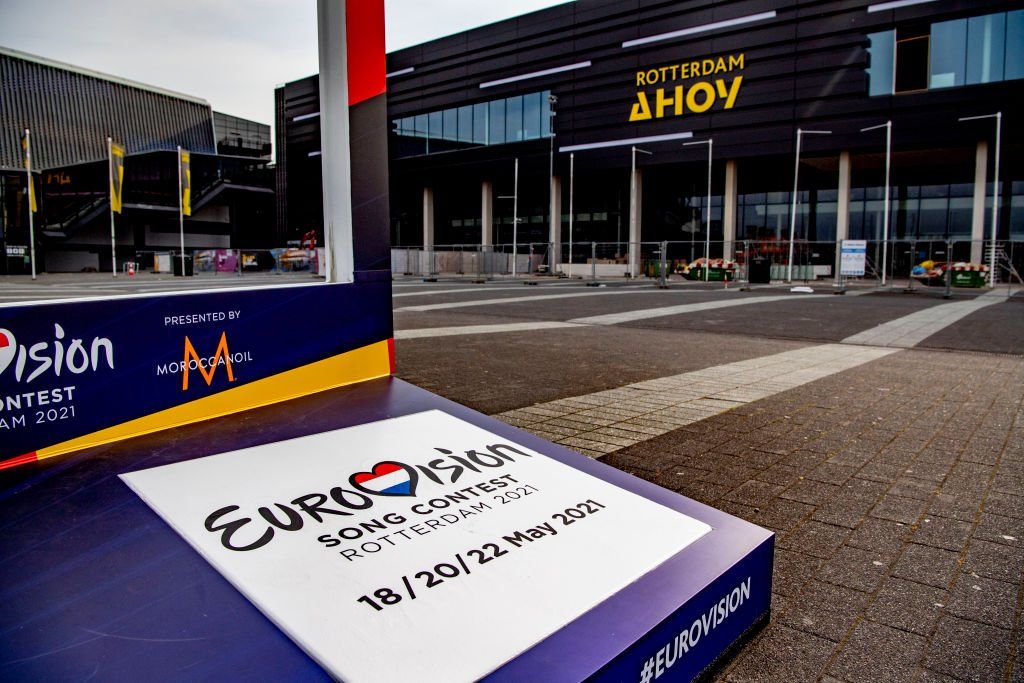 Eurovision Song Contest organisers have ruled out a full live show without social distancing when this year's event is staged in May.
They said they were still weighing up the best way to stage the show, and were being "determined but realistic".
Contestants have already been asked to produce a "live-on-tape" performance ahead of the competition.
The videos will be used if artists cannot travel due to the pandemic, or are forced to quarantine at the venue.
The 2021 Song Contest will still take place in Rotterdam after the Netherlands won the competition in 2019 with Arcade. Last year's event was cancelled because of the pandemic.
"The Eurovision Song Contest will definitely make its welcome return this May despite the pandemic but, in the prevailing circumstances, it is regrettably impossible to hold the event in the way we are used to," executive supervisor Martin Österdahl said.
Who is competing?
All 41 countries who were scheduled to compete in 2020 will return, as will many of the contestants who were supposed to take part last year. However, all artists will be required to perform a different song.
Returning entrants include Ireland's Lesley Roy and Iceland's Daði Freyr, who was tipped as a potential winner.
The BBC has yet to reveal who will represent the UK, but last year's contestant, James Newman, has previously said he is keen to return.
"I've said that I want to do it," he told BBC Radio 1 last year. "For me, it's like I want to finish what I started."
What happens next?
Last year, Eurovision announced four "scenarios" for how the contest could take place, ranging from a full-scale arena show with an audience, to a virtual event.
On Wednesday, Eurovision announced that "scenario A", which would have involved "a packed venue", had been ruled out.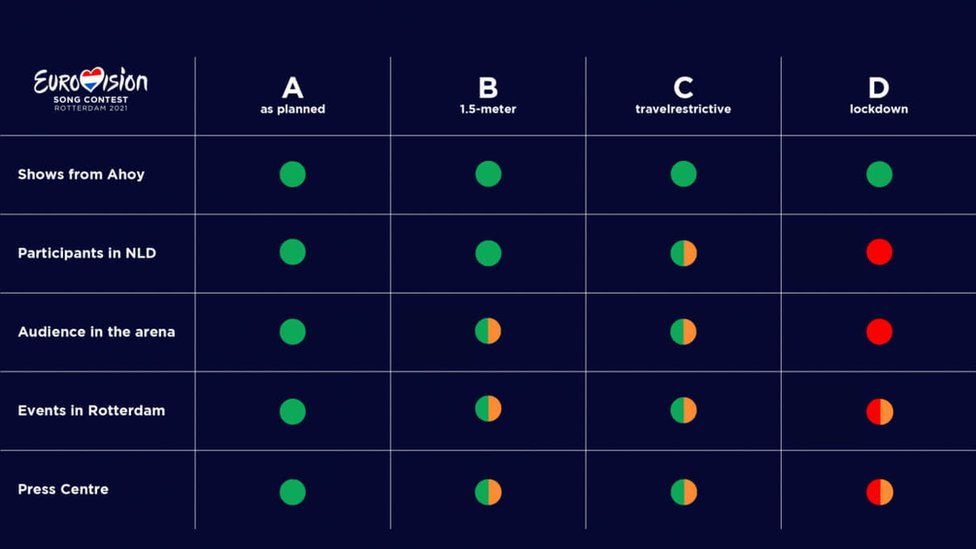 Scenario B means there could still be a socially-distanced show, with a reduced audience and participants performing in Rotterdam's Ahoy arena. Strict health and safety measures, including frequent Covid testing, would be in place.
For scenario C, all performances will be played "live-on-tape" with presenters helming the show from Rotterdam. Interval acts would also play live from the arena to a reduced audience. The final option would be for a fully-virtual contest, with no audience.
Organisers say they are currently "focusing their efforts" on option B "while realistically keeping downscaling options on the table for the weeks to come".
This article was originally published on: https://www.bbc.com