Greece has a rich geographical landscape, crystal clear seas and enchanting islands that are ideal for summer holidays. With millions of tourists every year, our country has upgraded tourism and so one can find benefits even on small islands. The most economical Greek islands are also beautiful and ideal for swimming during the summer season.
Of course, each person's badget is different, but for the majority, economic destinations are the ones we prefer for travel. The islands you will see below are not only of incomparable beauty, but also very economical!
Lefkada
Lefkada is the island of poets and is also called the emerald island. It is connected to the mainland and so one can travel by car to it without the cost of ferry.
The beaches of the island are located for years in the top beaches of the world, and you can enjoy them with a low badget since the accommodation options are many and economical. The island perfectly combines the enchanting beaches with a rich green landscape. Ionian cuisine is fantastic, and the local Lefkada has many special products and sweets to enjoy. Lefkada is a paradise destination for summer holidays and water sports!
Angistri
Just an hour and a half from Athens, Agistri is a beautiful island in the Saronic Gulf. The ferries to the island are very economical. Until August you can find very affordable rooms. In the last month of summer due to increased demand room prices are rising. Agistri is next to the beautiful Aegina and you can combine holidays on both islands. In Agistri there are wonderful beaches and forests and there is the opportunity for hiking and camping! There are also plenty of places to eat.
Kythnos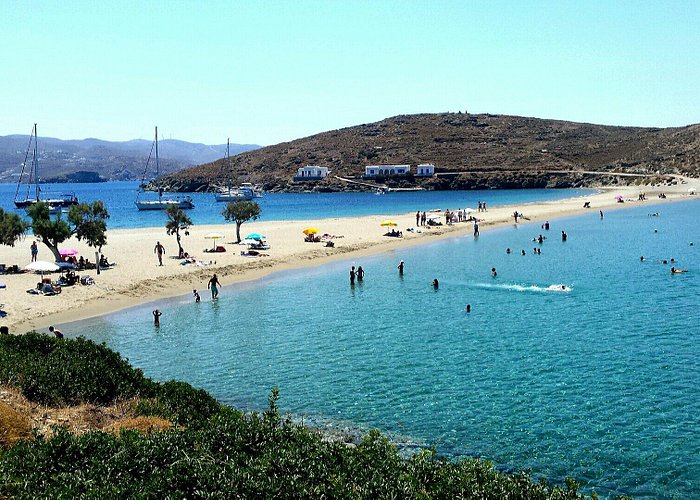 In the beautiful Cyclades is Kythnos an island with more than 70 beaches! Kolona beach is one of the most popular. The island is just three hours from the port of Piraeus and has cheap ferries. There you will see picturesque villages and streets. The island is also famous for the very good food in taverns in the city!
Ikaria
Ikaria is said to be more than an island! It is a way of life since its inhabitants are centuries old and their diet is the subject of research by scientists! Access to the island is either by boat from Piraeus or by plane. Armenisti, Nas and Seychelles beaches are very popular. Many people also choose Ikaria for the popular festivals where crowds gather for food and entertainment. In Raches again you will find many options of entertainment, food and drink.
Nisiros
Nisyros is a hidden treasure in the Dodecanese for anyone who discovers it. Although it is about 13 hours away from the port of Piraeus, the ferries are cheap and you do not need a lot of money for accommodation. The island is a volcano and so it has rich vegetation and impressive craters that you can visit. The island has air from the Aegean of the 60 ′ with traditional villages, squares and cafes! There you will enjoy your swim in beautiful beaches. Hochlakoi beach has large smooth pebbles that will impress you and is located near Chora.
Kea or Tzia
Kea or Tzia is a small island in the Cyclades that is only one hour away from the port of Lavrio! Ferry boats are very economical but accommodation on the island is also affordable. It is ideal for family vacations but also quite romantic for couples. It has very nice local cuisine, many ancient monuments and beautiful beaches with crystal clear waters!
This article was origianaly published on: https://www.ediva.gr/